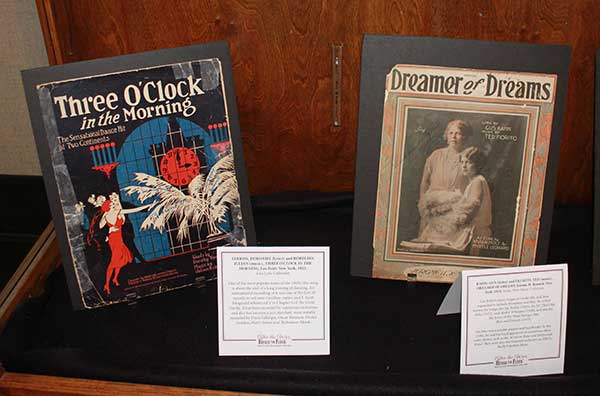 Featured in the display are a variety of treasures from the Mississippi State University Libraries Special Collections, drawn from the Manuscripts, Mississippiana, University Archives and Rare Books divisions. The exhibit, which is intended to complement the Ragtime festival (but will stay up after Ragtime is concluded), is focused on the decade between the end of what was then known as the Great War and before what was, for Mississippi, a cause of great devastation: the Great Flood of 1927.
On display are works autobiography, social analysis and other non-fiction by Civil Rights leader W.E.B. DuBois, Mound Bayou founder Isaiah T. Montgomery, and Prohibition historian John Krout; fiction and poetry by William Faulkner, William Alexander Percy, Willa Cather, Rudyard Kipling, and James Joyce, including a 1924 Ulysses; photographs of Mississippians documenting daily life and fashion as well as special activities, including sewing competitions; sheet music that reflects cultural trends; and popular periodicals. Also included are some vintage postcards from the T.H. Smith Postal History Collection.
The exhibit is on display on the third floor of Mitchell Memorial Library. It begins in the case outside the Dean's office, and continues inside Special Collections (open 7:30-5 PM Monday-Friday and 10-1 on selected Saturdays – PLEASE CALL AHEAD). It will be available to view through May.