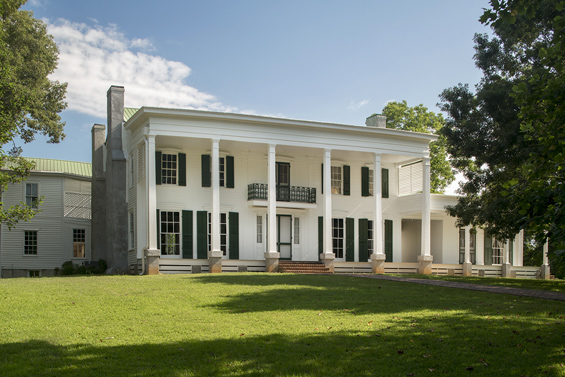 STARKVILLE, Miss.— In celebration of Mississippi's bicentennial, Mississippi State University Libraries and the Cotesworth Culture and Heritage Center are sponsoring a 2:30 p.m. program Sunday [April 9] in North Carrollton.
Free to all, "Mississippi Land and Literature" is part of a special programming series commemorating the Magnolia State's rich agrarian and literary heritage. MSU's Division of Agriculture, Forestry and Veterinary Medicine also is a sponsor of the official bicentennial project, which is made possible by a grant from the Mississippi Humanities Council, through support from Mississippi Development Authority.
"MSU Libraries seeks to engage the university community, the state and visitors in Mississippi's rich cultural heritage," said Sarah McCullough, MSU Libraries coordinator of cultural heritage projects. "This partnership allows the university to utilize an extraordinary historic property and bring cultural heritage programming to a rural region of the state."
During the April 9 event, Pulitzer Prize-nominated journalist, best-selling crime novelist and seventh-generation Mississippian Neely Tucker will discuss the life and accomplishments of the late Pulitzer Prize-winning Washington Post columnist William J. Raspberry.
Tucker wrote for The Washington Post for many years, where Raspberry also had a distinguished career.
A native of Okolona, Raspberry received his Bachelor of Science degree from Indiana Central College (now the University of Indianapolis). For nearly 40 years, he wrote an opinion column for The Washington Post before retiring in 2005. Raspberry also taught journalism at Howard University, the University of Maryland and Duke University.
Along with receiving more than 15 honorary doctorates, Raspberry garnered awards from the National Press Club and the National Association of Black Journalists. He also received the Capital Press Club's Journalist of the Year award in 1965. Raspberry died July 17, 2012, at his Washington home after battling prostate cancer.
The Cotesworth Culture and Heritage Center is located at 6337 Highway 17 in North Carrollton. It seeks to preserve and honor the Cotesworth legacy by serving as an educational center, heritage site, and venue for arts, entertainment and events benefitting all of Mississippi. For more information, call 662-237-9600 or visit cotesworthcenter.com.
Additional information about the "Mississippi Land and Literature" program series is available online at http://library.msstate.edu/cotesworth.
McCullough also may be contacted at 662-325-2506 or smccullough@library.msstate.edu.
For more on MSU's Mitchell Memorial Library, visit library.msstate.edu or follow on Facebook @msulibrary, Twitter @msu_libraries or Instagram @msstatelibraries.
MSU is Mississippi's leading university, available online at www.msstate.edu.