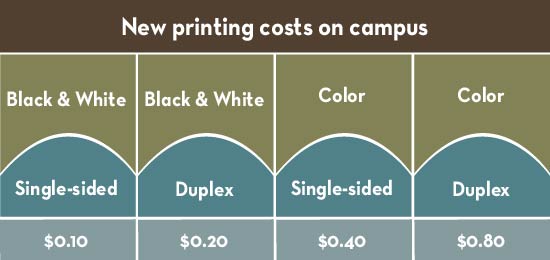 The fall semester brings changes to the way MSU prints documents all over campus.
Effective Monday, August 14, 2017, the cost of black-and-white printing is rising to $0.10 for single-sided printing and $0.20 for duplex. Color printing is now $0.40 for single-sided and $0.80 for duplex.
Also coming this fall is a change to the computer lab printing process. The current model requires users to print their documents plus a cover page, and lab assistants to sort and handle the documents. Under the new system, students printing in one of Mitchell Memorial Library's labs will send documents to a release station and have the opportunity to check them before finally printing. This process will save students money and cut down on wasted paper.
For more information about printing at MSU Libraries, visit our Documents page; for help, Ask A Librarian or a lab assistant. For questions about the changes to printing, please contact Information Technology Services.