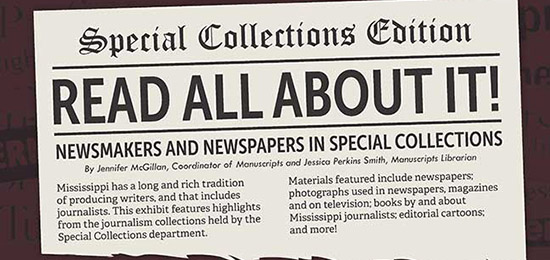 The Mississippi State University Libraries Special Collections Department is pleased to announce the opening of a new exhibit entitled READ ALL ABOUT IT: NEWSMAKERS AND NEWSPAPERS IN SPECIAL COLLECTIONS, celebrating the Mississippi State University Libraries' rich archival holdings in the area of journalism.
Featured in the display are a variety of treasures drawn from the Manuscripts and Mississippiana divisions. Materials on featured in the exhibit include the oldest newspaper in the library, The Essex Gazette, printed in Salem MA in 1774; the oldest Mississippi newspaper in the library, Southern Galaxy, printed in Natchez in 1828; other examples of Mississippi papers to 1900, including two copies of the infamous "wallpaper edition" of the Vicksburg Daily Citizen and other Civil War era papers; a selection of African American papers from 1902-1971; books by and about some of Mississippi's most famous journalists; editorial cartoons by Clay Jones, Marc Bolton, and Marshall Ramsay; scrapbooks and travel souvenirs from the Mississippi Press Association and the American Agricultural Editors' Association; and photographs and a script from Howard Langfitt's Farm Families of the Week, a program which ran from 1954-1961 on WLBT in Jackson, MS.
The exhibit is on display on the second and third floors of Mitchell Memorial Library. It will be available to view through early October.