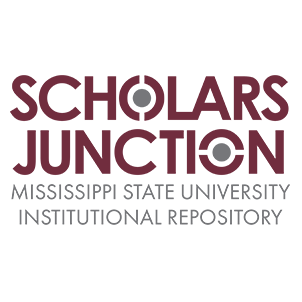 Mississippi State University Libraries is proud to launch its new and improved Scholars Junction institutional and digital repository.
Scholars Junction is an important tool for showcasing the University's research, scholarship, and creative works. We encourage anyone who wants to preserve and provide access to their creations to submit your work to Scholars Junction.
MSU Libraries faculty and staff have been working since December 2020 to migrate content from the previous platform into a more robust, reliable, and feature-rich system. The new cloud-hosted platform hosted by Digital Commons by bepress is an excellent system to share many types of works, including (but not limited to) scholarly articles, working papers, extension documents, photographs, videos, open educational resources, theses and dissertations, conference proceedings, presentations, and more. The new system accepts most file types and submission is quick and easy.
With Digital Commons, Scholars Junction now provides:
Unlimited, secure cloud storage
Detailed, on-demand usage and impact metrics to use in tenure and promotion dossiers and grant applications
Specialized tools for publishing journals, conference proceedings, open educational resources, and more
Conference and event hosting with proceedings archival
Hosting tools for student- and faculty-led journals
Dataset archival
Content digitized by the Libraries' archives, special collections, and the Ulysses S. Grant Presidential Library (transition to the new platform is ongoing and is expected to be complete by January 31, 2022)
Visit Scholars Junction at https://scholarsjunction.msstate.edu.
For more information on submitting to Scholars Junction, setting up an online conference or event, or hosting an online journal, visit https://library.msstate.edu/scholarly-communication-services.
We are now ready to begin the final steps of the migration to this new platform, which include updating our links and opening for submissions. There may be some downtime associated with this process. We apologize for any inconvenience this may cause. We know how important your work is to you, and believe this change brings many benefits that you will enjoy.
If you are an author published in Scholars Junction, or cite work published in Scholars Junction, please read:
Your work has already been copied into the new system.
Each item published in the current system (https://ir.library.msstate.edu) was automatically given a permalink. That permalink begins with hdl.handle.net, and was provided to each author in an email upon acceptance of their submission.
Those permalinks will be redirected to their corresponding items in the new system. We anticipate that this will take no more than a couple of weeks, during which the current system will still be available so that you experience minimal downtime.
Once those redirects are completed, we will decommission the current system and https://ir.library.msstate.edu will be configured to automatically point to https://scholarsjunction.msstate.edu. Unfortunately, we are unable to redirect links to specific item records that begin with https://ir.library.msstate.edu, so those links will break at that time.
We will post a notice before we begin this final redirect process, as there may be a bit of downtime. Please watch the MSU Libraries website and/or social media (Twitter, Facebook) for this notice.
New submissions at https://scholarsjunction.msstate.edu will not receive a hdl.handle.net permalink. However, we are working to provide DOIs for scholarly submissions. We anticipate being able to provide this service soon. DOIs will take the place of the hdl.handle.net permalinks, and should always be used when disseminating your work, rather than any item link beginning with scholarsjunction.msstate.edu.
If you have any questions, or encounter any problems, please contact us at scholcomm@msstate.libanswers.com.