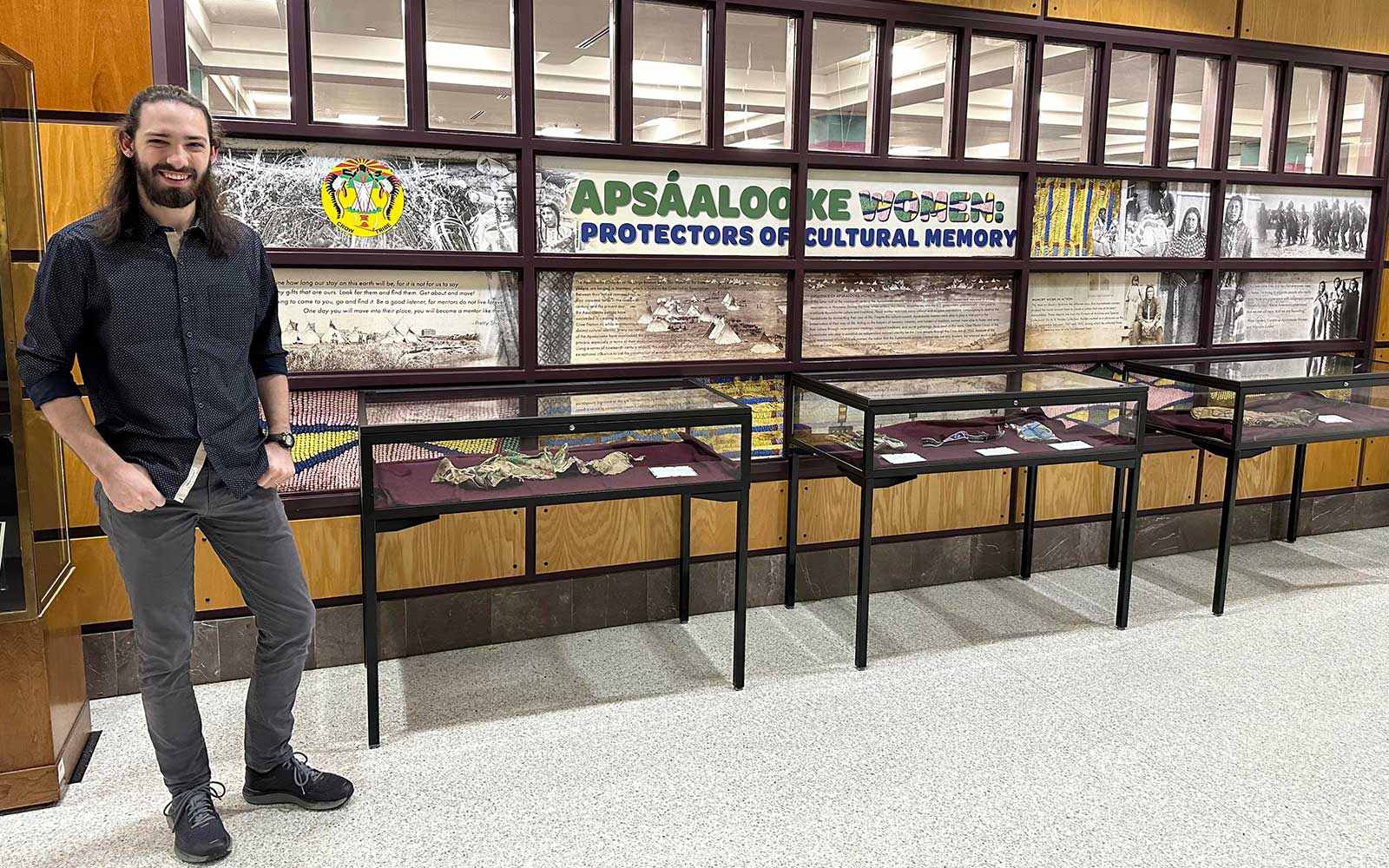 A new exhibit in Mitchell Memorial Library helps celebrates Native American/American Indian History Month. Curated by graduate student Ben Hillerman, the Apsáalooke Women: Protectors of Cultural Memory exhibit tells the story of how Apsáalooke (Crow) women protected their culture through the period of removal and nation building at the turn of the twentieth century.
Hillerman, a graduate assistant in Archives and Special Collections, said he picked the exhibit focus when he came across the collection of Dr. A.B. Holder artifacts in Mississippi State's Archives and Special Collections.
"I have a specific interest in Native American women's history, and after discovering that the Holder artifacts were obtained during removal, I decided to research the women who made them," Hillerman said. "This led me to an examination of Crow women's role as keepers of memory and culture."
The exhibit displays a collection of five Apsáalooke objects taken from the Holder Collection, including a piece of a hide jacket, a pair of moccasins, a belt, a mirror pouch, and a pair of pants. Hillerman said each of these objects display fine artistry – intricate beadwork, vibrant painting, and exceptional leatherwork.
"Using these objects, the exhibit displays the ways in which women were able to use their cultural station and societal resilience to maintain and bolster Crow culture through this time of change," he said.
Curator of Material Culture, Carrie P. Mastley said the exhibit grew from an exhibit proposal project Hillerman wrote for a graduate class on public history in the spring semester of 2023. She and Hillerman said the purpose is to tell the rarely told story of how Apsáalooke vitally contributed to the preservation of their culture and the establishment of a crow nation that is both modern and culturally strong.
Mastley said the displayed objects were collected by Dr. Holder during his time as a physician on the Crow reservation in Montana in the late 1800s.
Hillerman, from Jackson, is currently in the third semester of his master's in history program. He is focusing on in 19-20th century Native American history.