Dave Bennett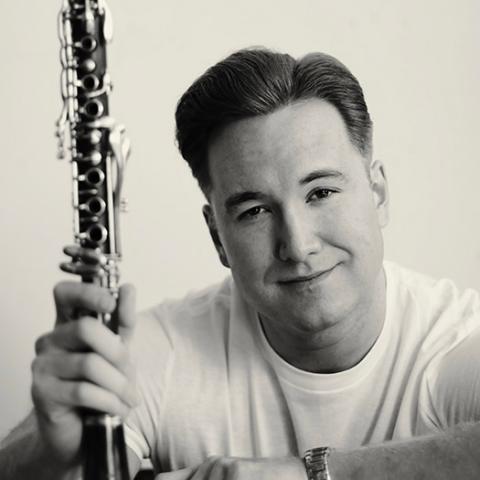 Dave Bennett doesn't fit the mold.
For starters, you don't find many jazz clarinet players who name Alice Cooper, Stevie Ray Vaughan, and Chris Isaak among their influences. You also won't find many musicians who are equally conversant with the music of Benny Goodman (the "King of Swing") and Roy Orbison ("The Soul of Rock and Roll").
Bennett is a clarinet virtuoso who plays electric guitar, piano, drums, AND vocalizes.  Saluting Swing to Rock: covering music from the Swing Era to early Rockabilly and Country, to Elvis Presley and more.  Leading His Tribute to Benny Goodman, Dave has been a featured soloist at Carnegie Hall with The New York Pops (2013) and has played the show with 35 other US and Canadian orchestras including Nashville, Detroit, Rochester, Omaha, Toronto, Vancouver, Orlando, San Antonio, Jacksonville, Portland, OR and Portland, ME, and Houston. Fifty performing arts centers across the USA have had success with his presentations.
An annual fixture at several American music festivals, Dave's "Rockin the '50s" show always brings down the house!  Dave pays tribute to Jerry Lee Lewis (piano and vocals), and Johnny Cash and Elvis Presley (electric guitar and vocals). Dave's original compositions are influenced by the style of Roy Orbison, the "Soul of Rock and Roll". Some of his annual "roots music" presenters include The Elkhart Jazz Festival, The Suncoast Classic Jazz Festival, The Arizona Classic Jazz Festival, The Southeast Clambake Music Festival, and The Redwood Coast Music Festival.
Dave has been featured on NPR Radio's "Jazz at Riverwalk." He made his European debut in 2008 at the The Bern Jazz Festival (Switzerland) in a combo with jazz legends and Benny Goodman band alumni guitarist Bucky Pizzarelli and vibraphonist, the late Peter Appleyard.
Dave is a Mack Avenue Records artist. His 2013 CD "Don't Be That Way" met with critical acclaim.
His second release, Blood Moon, which features five originals and six pop/jazz covers, hit the No 24 on the Billboard Jazz chart in 2018.
---
Performed in: 2019, 2023
Website: Personal Website