The Frank and Virginia Williams Collection of Lincolniana proudly places on display in the Mississippi State University Mitchell Memorial Library, Moody, Tearful Night, a painted bronze sculpture group, by Richard Masloski, ca. 2000. The sculpture depicts President Abraham Lincoln moments after John Wilkes Booth shot him in Ford's Theater. A doctor and four soldiers carry the President from Ford's Theater to the rooming house across the street where Lincoln would die, hours later. Two of the United States Army soldiers wear typical "Kepi" caps, while the officer (holding Lincoln's legs) wears a dress hat (known as a "Hardee" hat) and a dress sword. The doctor holds Lincoln's head and shoulders upright, as Lincoln's right arm hangs down, while another soldier carries Lincoln's left leg. This piece is one of seven cast by the artist. It measures 32 inches long, 36 inches high, and 26 inches wide.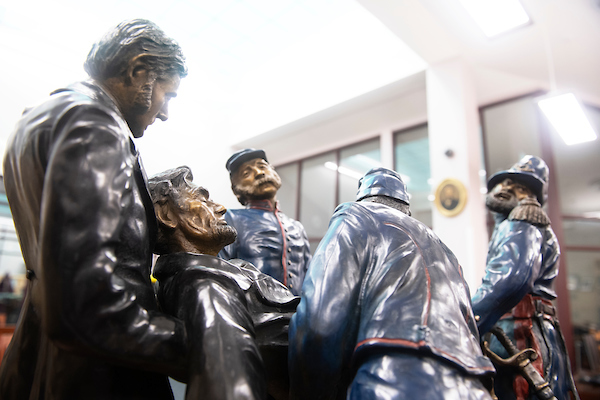 The title of the work, Moody, Tearful Night, is taken from the second stanza of Walt Whitman's poem about Lincoln's death, When Lilacs Last in the Dooryard Bloom'd (1865).
"O powerful western fallen star!
O shades of night — O moody, tearful night!
O great star disappear'd — O the black murk that hides the star!
O cruel hands that hold me powerless — O helpless soul of me!
O harsh surrounding cloud that will not free my soul."