The Frank and Virginia Williams Collection of Lincolniana documents the life and times of Abraham Lincoln. The Collection complements Civil War-related materials in the Ulysses S. Grant Presidential Library and Mississippi State University Libraries Special Collections. Its nineteenth-century political pamphlets and Lincoln family manuscripts are of particular interest to researchers.
The Williams Collection is accompanied by the Claude Simmonds Collection, which contains clippings of twentieth-century newspaper, magazine, and journal articles that reference Lincoln.
The Collection also documents the life and collecting activities of retired Rhode Island Chief Justice and Lincoln scholar Frank Williams and his spouse, teacher and primitive art scholar Virginia Williams.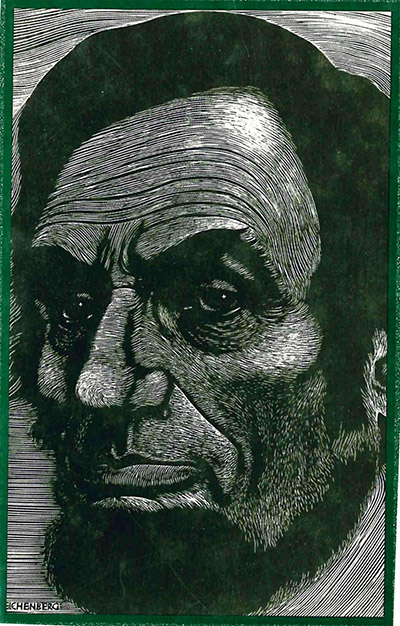 This image of Lincoln is taken from an engraving by artist Fritz Eichenberg. Eichenberg was one of the most noted engravers of the 20th century, and his The Art of the Print: Masterpieces, History, and Technique is now a classic. A refugee from Germany when Adolf Hitler came to power, he settled in Rhode Island and headed the Art Department at the University of Rhode Island. He and his wife Toni became great friends with Frank and Virginia Williams, and adapted the engraving into a poster and bookplate for the Williams Collection of Lincolniana.
I did my first Lincoln...in the middle of the second world war, to remind my friends of the great heart of Lincoln who, in the Gettysburg Address, exhorted this country to be magnanimous and bind up the wounds of a war of brother against brother.