This $41.3 million, 150,000-square-foot building and adjacent parking garage was built with funds through the Bureau of Buildings and MSU's Educational Building Corps. Among the new building's treasure of architectural features, visitors will find a grand staircase and two rotundas. Other select features include a gallery, a lounge area, and a Library Commons area that will include a combination of fixed and comfortable seating, a 16 station computer lab and a collaboration station.
Quick Facts
Project cost
$41.3 million
Funded by
Bureau of Buildings, MSU's Educational Building Corps
Total square footage
150,000 sq. ft.
Teaching/learning space:
90,000 sq. ft. (22 rooms on 3 floors)
Design team
Team leader & architect: Belinda Stewart Architects, PA
Electrical engineer: The Power Source, PLLC
Mechanical engineer: Engineering Resource Group, Inc.
Landscape architect: Debra Daws
Civil engineer: Pickering Firm, Inc.
Structural & parking: Timothy Haahs & Associates, Inc.
Old Main History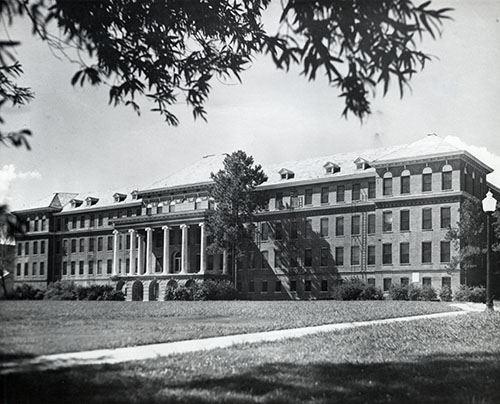 The Old Main Academic Center is named after the Old Main Dormitory, originally called the Main Dormitory. Its builders based the design on extensive study of Old Main's character and incorporated similar materials and elements.
Old Main Dormitory was the first dormitory on campus and was thought, in its day, to be the largest college dormitory in the United States. The first section was built in 1880, with additions in 1901, 1903, 1906, and 1922. Old Main was destroyed by fire on January 22, 1959. Bricks salvaged from the fire were used to build the Chapel of Memories. For more information on Old Main Dormitory and its history, visit the Gallery on the first floor of the Old Main Academic Center.
Resources from MSU Libraries
Read more about Old Main Dormitory