Digital Badges
Badges are now available for some Mississippi State University Library workshops!
What are the Digital Badges?
Digital badges or microcredentials show off skills you have learned through attending our workshops and can be displayed on your website, social media, resume, or CV. Open Badges issued through Badgr contain metadata that ties the badge to a unique owner and contain information about what criteria was required to earn them.
Currently two types of badges are available: Attendance and Achievement. Attendance badges are available for those who attend several workshops in a series. Achievement badges can be attained by attending a workshop and completing an assignment after the course. Badges currently being offered can be found on the Libraries' Badgr page.
Earn Your Badge!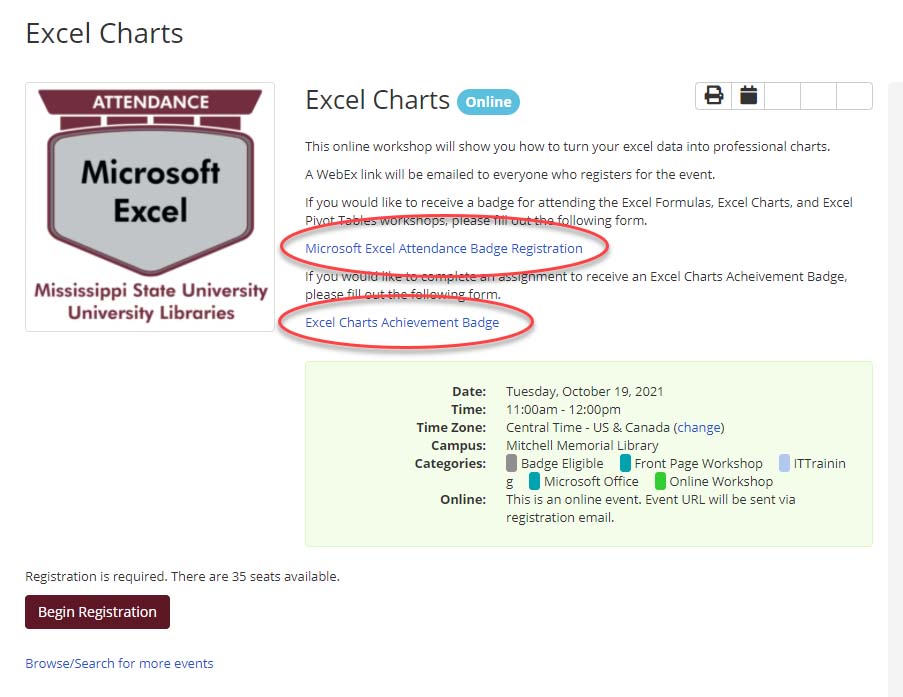 At the time we are offering a limited number of badge opportunities.  We hope to increase the number in the future.  We are currently offering badges related to Microsoft Excel, Adobe Spark, Survival Skills for Graduate Students workshops, and Library research in agriculture and forest resources.
Information about registration for a Survival Skills for Graduate Students badge is available in each workshop.  After each workshop, attendees who would like to participate in the badge program should follow the instructions provided in the session.
To register, find the workshop you would like to attend on the Libraries' Events Calendar, register, and look for the link in the description. This link will take you to a form for enrollment in the badge program.
For information on the Agriculture and Forest Resources contact Brad Brazzeal at bbrazzeal@library.msstate.edu.
How will badges help me with my academic and professional career?
Badges can help set you apart as you begin your career. Graduates just starting out may have similar skills and experiences as others who are also beginning their careers. Digital Badges show potential employers you have a proficiency in particular skills or software programs, such as research skills, Excel, or Adobe Spark. In addition to the recognition of this proficiency, digital badges also show potential employers that you value continued learning, pushing yourself and seizing opportunities that will make you a better employee. Digital badges can also help you connect with others who share an interest in these skills and software programs, opening the doors for collaboration, mentoring, and more.