The Writer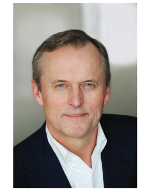 John Grisham, Jr., was born in 1955 in Jonesboro, Arkansas. His father was a construction worker and cotton farmer, and his mother was a homemaker. The family moved frequently but finally settled in Southaven, Mississippi, in 1967.
Young John dreamed of becoming a pro baseball player and even tried out for the Delta State University team, but eventually realized he "didn't have the right stuff." He changed his focus, earning a B.S. in accounting from Mississippi State University in 1977. He enrolled at the University of Mississippi with the intention of studying tax law but soon found that he did not enjoy it and turned his attention to criminal law.
After earning his law degree in 1981, he opened his own practice, working in criminal defense and personal injury litigation for almost ten years.
In 1983, he ran for the office of State Representative in Mississippi's Seventh District as a Democrat and won. By his second term, he was vice-chairman of the Apportionment and Elections Committee, and was a member of the Insurance, Judiciary A, and Military Affairs Committees. Yet Grisham was lonely without his family and frustrated with the slow pace of the state legislature. In his boredom, he began to come up with ways to pass the time; he once introduced a resolution commending singer Herbert Khaury (better known as Tiny Tim). Still, he held office until 1990.
A new diversion presented itself in tragic circumstances in 1984 at the DeSoto County courthouse—Grisham witnessed the testimony of a twelve-year-old rape victim and decided to write about what might have happened had her father killed her attackers. A Time to Kill was published in June 1988. Despite publishers' lukewarm reception of this first novel, Grisham had already begun another novel, The Firm, the film rights to which sold to Paramount for $600,000. Suddenly, Grisham was on the map, and a new career as a writer was assured.
Since A Time to Kill Grisham has published a new book each year. Each has become an international bestseller, and nine have been adapted for film (The Firm, The Pelican Brief, The Client, A Time to Kill, The Rainmaker, The Chamber, A Painted House, The Runaway Jury, and Skipping Christmas). At present, over 235 million John Grisham books are in print worldwide.
John Grisham and his wife, Renee, have two children, Ty and Shea, and split their time between a Mississippi farm and a Virginia plantation.
For Posterity: The John Grisham Papers
John Grisham, Jr., was born in Jonesboro, Arkansas, in 1955, the son of a cotton farmer. Grisham and his family moved to Southaven, Mississippi, in 1967, and Grisham graduated from Southaven High School in 1973. He attended Northwest Junior College in Senatobia, Mississippi and Delta State University in Cleveland, Mississippi. Grisham then enrolled in the accounting program at Mississippi State University, receiving his B.S. in accounting in 1977, followed by a study of tax law and criminal law at the University of Mississippi in Oxford, Mississippi.
In 1981, Grisham earned his law degree and opened a law practice in Southaven, Mississippi. As a criminal lawyer he had opportunity to experience the drama and pathos of the courtroom and to witness lawyers and judges at their best and worst.
In 1983, the voters of Mississippi's Seventh District sent Grisham to Jackson as their State Representative. By his second term he held the vice chairmanship of the Apportionment and Elections Committee as well as memberships on the Insurance, the Judiciary A, and the Military Affairs Committees. While in the legislature, Grisham dealt with a variety of educational issues such as university funding, teacher evaluation, and the educational reform package known as BEST (Better Education for Success Tomorrow). However, Grisham missed the company of his family and was frustrated by the frequent inactivity of the state legislature.
While a practicing attorney and legislator, he witnessed a trial he would later refer to as "gut-wrenching" which sparked the story that would become his first novel, A Time to Kill. Working from 5:00 to 8:00 each morning, Grisham crafted his tale of a young rape victim, her avenging father, and the harrowing trial that rocked the small Southern town of Clanton, Mississippi.
At first, Grisham found publishers less than enthusiastic about his project. After obtaining a literary agent, a new publishing house, Wynwood Press, agreed to publish the work with an initial printing of 5,000 copies. Grisham personally sold nearly 1,000 to his friends and well-wishers in Mississippi.
Columnist Sid Salter says of A Time to Kill (regarded by Grisham as his best work), "The novel presents in a single courtroom scene the essence of the conflict between custom and conscience on the issue of race." A Time to Kill received little national attention, having been prejudged by most as a regional novel.
Grisham began work on his second novel, The Firm, while awaiting word from his agent on the first book's publication. The Firm, a legal thriller, possessed the qualities necessary to make it a commercial success. Published in 1991, The Firm spent forty-seven weeks on the New York Times' Best-Seller List and was eventually translated into twenty-nine languages.
Even before the success of his second novel, Grisham decided not to seek reelection to the legislature. He closed his law practice and moved his family to Oxford, where he intended to devote his time to writing. The Pelican Brief and The Client followed in 1992 and 1993, respectively. Both made the New York Times' Bestseller List, as did A Time to Kill when it was released in paperback. The sale of motion picture rights to The Firm, The Pelican Brief, and The Client added to Grisham's commercial success.
The John Grisham Papers is a collection of materials generated during Grisham's tenure as Mississippi State Representative (1983-1990) and was created as a result of his literary endeavors.
Included in The John Grisham Papers are:
legislative subject files relating to issues considered by Grisham as legislator (of special interest are files concerning reapportionment, DeSoto County highway projects, legislation related to salaries and staff of government attorneys, the Memphis International Airport expansion, and punitive damages legislation)
drafts and typeset copies of A Time to Kill, The Firm, The Pelican Brief, and The Client
photographs representing both his legislative and his literary activities
correspondence consisting of personal letters, fan mail, requests for public appearance, and solicitations
promotional materials, including a thirty-second commercial promoting The Firm produced by Franklin Spier
materials pertaining to the regulation of energy rates
documentation of Grisham's involvement in the State Democratic Executive Committee and with a group of state legislators known as the Northwest Mississippi Coalition
by-laws from the Mississippi Writers Club, quotes from Thomas à Kempls and John Donne, and 1991 baseball schedules for Mississippi State University and University of Mississippi