About the museum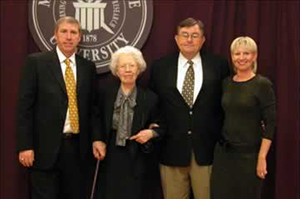 Mary Ann Templeton, wife of Starkville businessman Charles H. Templeton, Sr., once spied an outside horn record player. Thinking it would look nice in their home, she persuaded her husband to buy it. This first record player sparked a continuing interest in gramophones, player pianos, music boxes, and similar instruments. Over the next 40 years, Templeton collected nearly 200 musical instruments, over 22,000 pieces of sheet music, and 13,000 recordings. In 1987, he donated this impressive collection to Mississippi State University.
The Museum was formerly housed in another campus building. In 2004, Mary Ann Templeton donated funds to the Mississippi State University Libraries to renovate an area within Mitchell Memorial Library to house Charles H. Templeton, Sr.'s impressive collection and to re-establish the Museum. The new Museum opened on March 17, 2006. Through Mrs. Templeton's generous gift and the contributions of her son Chip and daughter Mary Beth Templeton Langston, the Charles H. Templeton Sr. Music Museum continues to educate and inspire.
The Museum allows visitors to view and listen to early phonographs created by Thomas Edison; gramophones produced by Columbia and Eldridge Johnson; cylinder and disc-type music boxes; organs; organettes of paper roll and cob varieties; and self-playing accordions. Also on display are several of the RCA Victor dogs commonly referred to as "Nipper." Nipper was generally seen sitting next to a Victor machine listening to "His Master's Voice."
In this video, Lynda Graham highlights notable Templeton Museum pieces for Farmweek's 'Off the Highway' segment with Zac Ashmore.