The Templeton Story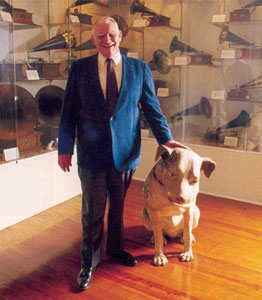 The late Charles H. Templeton, Sr. was a Starkville, Mississippi businessman who loved music from an early age. Templeton played the oboe in the Starkville High School band and the piccolo and oboe in the Mississippi State University (called "Mississippi State College" at the time) Famous Maroon Band. He graduated from MSU in 1949, going on to become the owner of Templeton Oldsmobile in Starkville.
Templeton began collecting musical instruments and players in the 1950s when his wife, Mary Ann, persuaded him to buy an outside horn record player she had found. This purchase sparked a continuing interest in gramophones, player pianos, music boxes, and similar instruments. Templeton was curious about how these early instruments worked, how they each got their distinct looks, and how some became more popular than others. Over the next 40 years, he combined business and music to build one of the largest collections of instruments, recordings, and sheet music in the United States, calling this collection "The Business of Music." When he donated the collection to Mississippi State University in 1987, it had grown to include over 200 self-playing musical instruments (including several rare old music boxes), 22,000 pieces of sheet music representing all stages in the development of music reproduction, 15,000 recordings, and related items documenting the history of the music business since the late 1800s. Joe Carrithers, writer for the Commercial Dispatch, quoted Templeton as saying the collection was "an old friend that had been in our household for a long time and it's a great comfort to know that it's going to an even older friend – Mississippi State."
In 2000, the Library launched the Charles H. Templeton Sr. Sheet Music Collection. Since this project began, Library staff have scanned all of the unique pieces of sheet music and made them available on the Internet for scholars, musicologists and music lovers. The collection has received worldwide recognition for its ease and scope of access.